Profiling a process run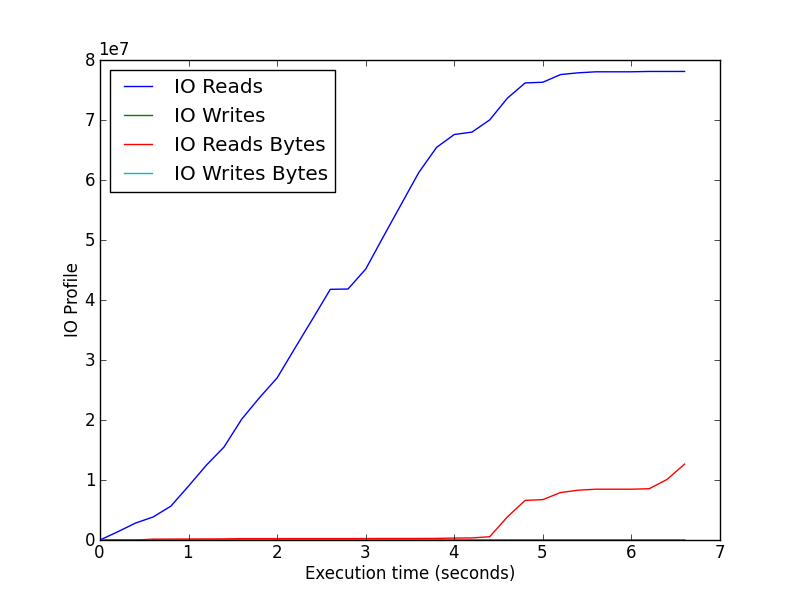 I wanted the ability to run a given process and get
a plot of key metrics (cpu usage, memory usage, disk i/o) throughout the duration of the process run.
Something light-weight with minimal dependencies so I can easily install it on a server for a one-time need.
Couldn't find a tool for it, so I wrote
profile-process
which does exactly that in <100 lines of python.
black-box behavior testing processes/daemons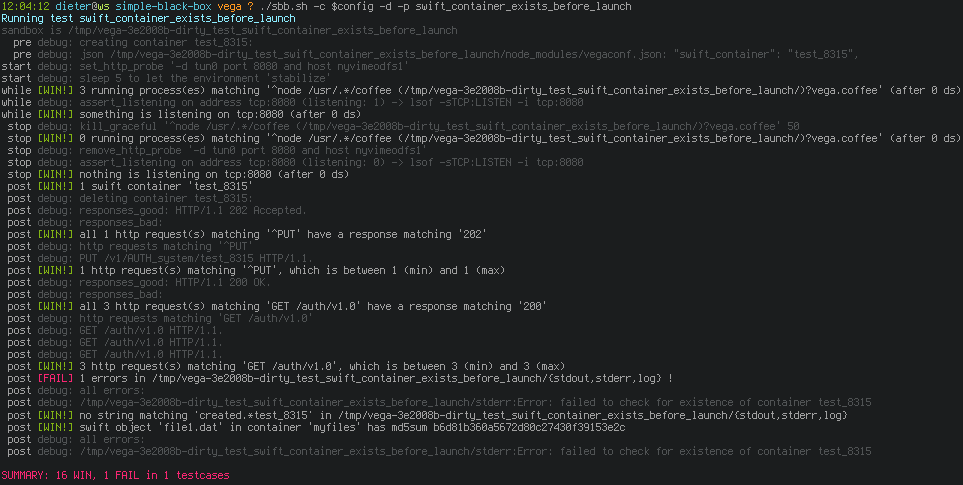 I wrote
simple-black-box
to do this.
It runs the subject(s) in a crafted sandbox, sends input (http requests, commands, ...)
and allows to make assertions on http/statsd requests/responses, network listening state, processes running, log entries,
file existence/checksums in the VFS/swift clusters, etc.
Each test-case is a scenario.
It also can use
logstash
to give a centralized "distributed stack trace" when you need to debug a failure after multiple processes interacting and acting upon received messages; or to compare behavior across different scenario runs.
You can integrate this with profile-process to compare runtime behaviors across testcases/scenarios.
read more
Monday, 21 Jan 2013 15:25 - tags: devops, monitoring, perf - 0 comments
When you use
rrdtool
, it can happen that you first create your databases, then collect a whole bunch of data and decide later you want more accuracy/longer periods.
Especially when using
read more
Wednesday, 09 Dec 2009 15:05 - tags: devops, monitoring - 5 comments
Wednesday, 23 Apr 2014 09:10 - tags: devops, monitoring - 0 comments
Saturday, 20 Sep 2014 15:18 - tags: devops, golang, monitoring - 0 comments
Client-side rendering of charts as opposed to using graphite's server side generated png's allows various interactivity features, such as:
read more
Wednesday, 14 Nov 2012 08:49 - tags: devops, monitoring - 0 comments
Earlier this month we had another iteration of the Monitorama conference, this time in Portland, Oregon.


(photo by obfuscurity)
read more
Thursday, 29 May 2014 10:39 - tags: devops, monitoring - 0 comments
The
whisper-to-influxdb migration script
I posted earlier is pretty bad. A shell script, without concurrency, and an undiagnosed performance issue. I hinted that one could write a Go program using the unofficial
whisper-go
bindings and the
influxdb Go client library
. That's what I did now, it's at
github.com/vimeo/whisper-to-influxdb
. It uses configurable amounts of workers for both whisper fetches and InfluxDB commits, but it's still a bit naive in the sense that it commits to InfluxDB one serie at a time, irrespective of how many records are in it. My series, and hence my commits have at most 60k records, and presumably InfluxDB could handle a lot more per commit, so we might leverage better batching later. Either way, this way I can consistently commit about 100k series every 2.5 hours (or 10/s), where each serie has a few thousand points on average, with peaks up to 60k points. I usually play with 1 to 30 InfluxDB workers. Even though I've hit a few
InfluxDB
issues
, this tool has enabled me to fill in gaps after outages and to do a restore from whisper after a complete database wipe.
Tuesday, 30 Sep 2014 08:37 - tags: devops, golang, monitoring - 0 comments
The above sounds like a marketing phrase and I'm just as skeptical of them as you, but I feel it's in place. Not because GE is necessarily better, but it's certainly
different
.
read more
Wednesday, 09 Jan 2013 09:25 - tags: devops, monitoring - 2 comments
I've been a graphite contributor for a while (and still am). It's a great tool for timeseries metrics. Two weeks ago I started working on Graphite-ng: it's somewhere between an early clone/rewrite, a redesign, and an experiment playground, written in Golang. The focus of my work so far is the API web server, which is a functioning prototype, it answers requests like
/

render

/?

target

=

sum

(

scale

(

stats.web2

,

5.12

),

derivative

(

stats.web2

))



I.e. it lets you retrieve your timeseries, processed by function pipelines which are setup on the fly based on a spec in your http/rest arguments. Currently it only fetches metrics from text files but I'm working on decent metrics storage as well.
read more
Saturday, 07 Sep 2013 20:54 - tags: devops, golang, monitoring, perf - 5 comments
Updated oct 1, 2014 with a new
Disk space efficiency
section which fixes some mistakes and adds more clarity.
The Graphite + InfluxDB series continues.
read more
Wednesday, 24 Sep 2014 07:56 - tags: devops, golang, monitoring - 4 comments
Thursday, 04 Apr 2013 08:54 - tags: devops, monitoring - 5 comments
Graphite, and the storage Achilles heel
Graphite is a neat timeseries metrics storage system that comes with a powerful querying api, mainly due to the whole bunch of
available processing functions
.
For medium to large setups, the storage aspect quickly becomes a pain point. Whisper, the default graphite storage format, is a simple storage format, using one file per metric (timeseries).
read more
Sunday, 18 May 2014 13:22 - tags: devops, golang, monitoring, perf - 6 comments
Introduction
Graphite can show events such as code deploys and puppet changes as vertical markers on your graph. With the advent of new graphite dashboards and interfaces where we can have popups and annotations to show metadata for each event (by means of client-side rendering), it's time we have a database to track all events along with categorisation and text descriptions (which can include rich text and hyperlinks). Graphite is meant for time series (metrics over time), Anthracite aims to be the companion for annotated events.
More precisely, Anthracite aims to be a database of "relevant events" (see further down), for the purpose of enriching monitoring dashboards, as well as allowing visual and numerical analysis of events that have a business impact (for the latter, see "Thoughts on incident nomenclature, severity levels and incident analysis" below)
It has a TCP receiver, a database (sqlite3), a http interface to deliver event data in many formats and a simple web frontend for humans.
read more
Monday, 12 Nov 2012 08:49 - tags: devops, monitoring - 3 comments
Graphite's metrics are strings comprised of dot-separated nodes which, due to their ordering, can be represented as a tree. Many other places use a similar format (stats in /proc etc).
OpenTSDB's metrics are shorter, because they move some of the dimensions (server, etc) into key-value tags.
I think we can do better...
I think our metrics format is restrictive and we do our self a disservice using it:
read more
Saturday, 14 Sep 2013 11:29 - tags: devops, monitoring - 4 comments
I submitted a pull request to statsd which adds histogram support.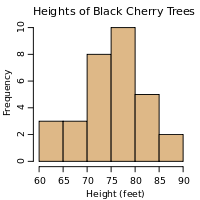 (refresher: a histogram is [a visualization of] a frequency distribution of data, paraphrasing your data by keeping frequencies for entire classes (ranges of data). histograms - Wikipedia)
It's commonly documented how to plot single histograms, that is a 2D diagram consisting of rectangles whose
area is proportional to the frequency of a variable
whose width is equal to the class interval
Class intervals go on x-axis, frequencies on y-axis.
Note: histogram class intervals are supposed to have the same width.
My implementation allows arbitrary class intervals with potentially different widths, as well as an upper boundary of infinite.
Plotting histograms.. over time
read more
Wednesday, 07 Nov 2012 18:45 - tags: devops, monitoring, perf - 1 comments
Sunday, 24 Mar 2013 11:36 - tags: devops, monitoring - 0 comments
Learned about
Dell Crowbar
the other day. It seems to be (becoming) a tool I've wanted for quite a while, because it takes automating physical infrastructure to a new level, and is also convenient on virtual.
read more
Wednesday, 02 May 2012 11:50 - tags: devops, openstack - 2 comments