Profiling a process run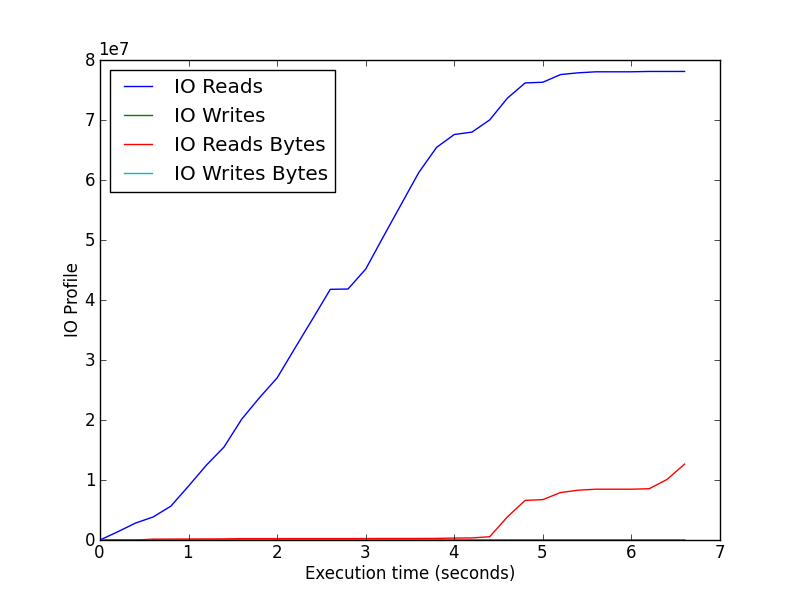 I wanted the ability to run a given process and get
a plot of key metrics (cpu usage, memory usage, disk i/o) throughout the duration of the process run.
Something light-weight with minimal dependencies so I can easily install it on a server for a one-time need.
Couldn't find a tool for it, so I wrote
profile-process
which does exactly that in <100 lines of python.
black-box behavior testing processes/daemons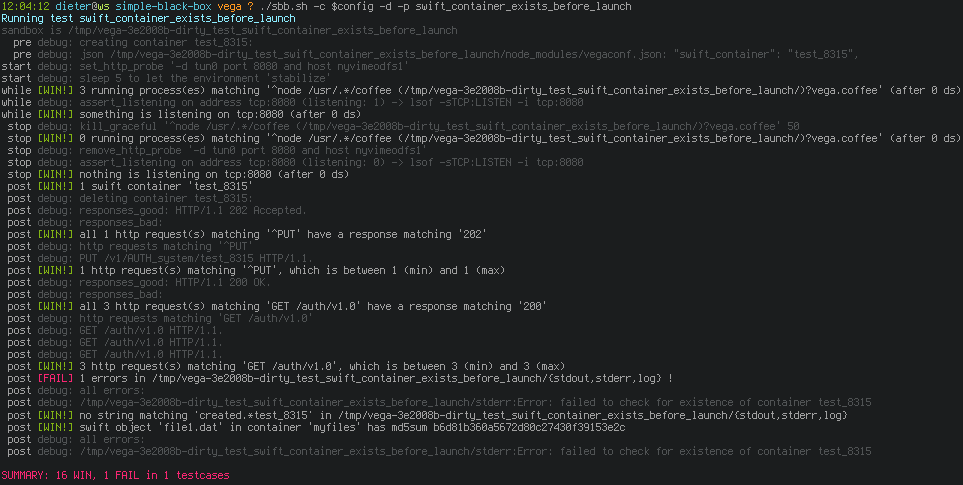 I wrote
simple-black-box
to do this.
It runs the subject(s) in a crafted sandbox, sends input (http requests, commands, ...)
and allows to make assertions on http/statsd requests/responses, network listening state, processes running, log entries,
file existence/checksums in the VFS/swift clusters, etc.
Each test-case is a scenario.
It also can use
logstash
to give a centralized "distributed stack trace" when you need to debug a failure after multiple processes interacting and acting upon received messages; or to compare behavior across different scenario runs.
You can integrate this with profile-process to compare runtime behaviors across testcases/scenarios.
read more
Monday, 21 Jan 2013 15:25 - tags: devops, monitoring, perf - 0 comments
Learned about
Dell Crowbar
the other day. It seems to be (becoming) a tool I've wanted for quite a while, because it takes automating physical infrastructure to a new level, and is also convenient on virtual.
read more
Wednesday, 02 May 2012 11:50 - tags: devops, openstack - 2 comments
Graphite's metrics are strings comprised of dot-separated nodes which, due to their ordering, can be represented as a tree. Many other places use a similar format (stats in /proc etc).
OpenTSDB's metrics are shorter, because they move some of the dimensions (server, etc) into key-value tags.
I think we can do better...
I think our metrics format is restrictive and we do our self a disservice using it:
read more
Saturday, 14 Sep 2013 11:29 - tags: devops, monitoring - 4 comments
Wednesday, 23 Apr 2014 09:10 - tags: devops, monitoring - 0 comments
Client-side rendering of charts as opposed to using graphite's server side generated png's allows various interactivity features, such as:
read more
Wednesday, 14 Nov 2012 08:49 - tags: devops, monitoring - 0 comments
Earlier this month we had another iteration of the Monitorama conference, this time in Portland, Oregon.


(photo by obfuscurity)
read more
Thursday, 29 May 2014 10:39 - tags: devops, monitoring - 0 comments
When you use
rrdtool
, it can happen that you first create your databases, then collect a whole bunch of data and decide later you want more accuracy/longer periods.
Especially when using
read more
Wednesday, 09 Dec 2009 15:05 - tags: devops, monitoring - 5 comments
The above sounds like a marketing phrase and I'm just as skeptical of them as you, but I feel it's in place. Not because GE is necessarily better, but it's certainly
different
.
read more
Wednesday, 09 Jan 2013 09:25 - tags: devops, monitoring - 2 comments