Profiling a process run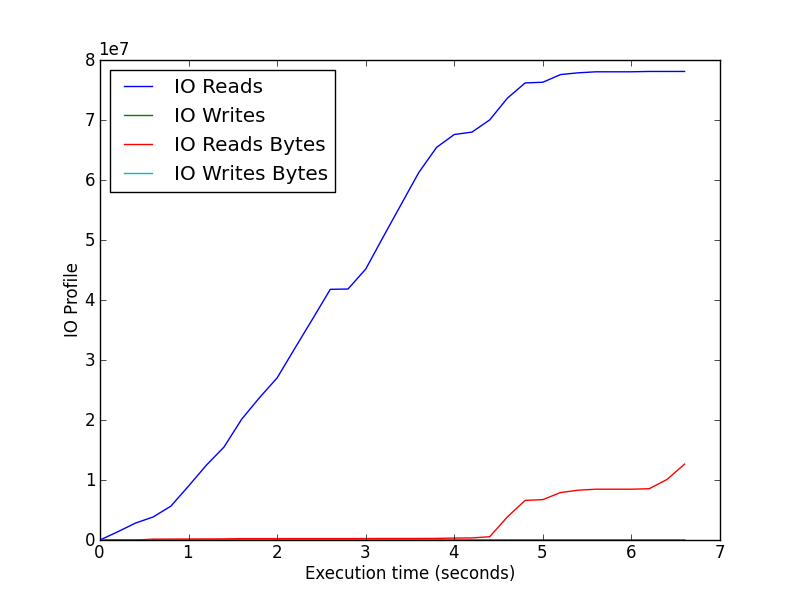 I wanted the ability to run a given process and get
a plot of key metrics (cpu usage, memory usage, disk i/o) throughout the duration of the process run.
Something light-weight with minimal dependencies so I can easily install it on a server for a one-time need.
Couldn't find a tool for it, so I wrote
profile-process
which does exactly that in <100 lines of python.
black-box behavior testing processes/daemons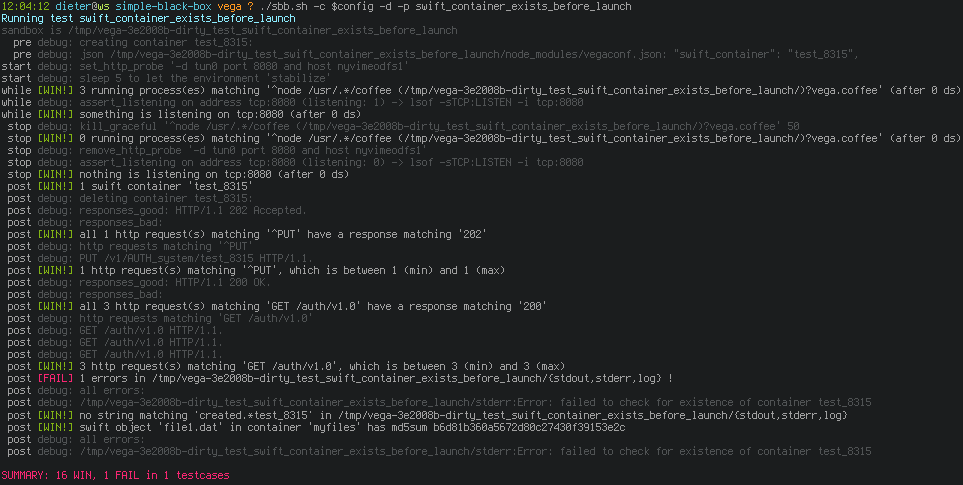 I wrote
simple-black-box
to do this.
It runs the subject(s) in a crafted sandbox, sends input (http requests, commands, ...)
and allows to make assertions on http/statsd requests/responses, network listening state, processes running, log entries,
file existence/checksums in the VFS/swift clusters, etc.
Each test-case is a scenario.
It also can use
logstash
to give a centralized "distributed stack trace" when you need to debug a failure after multiple processes interacting and acting upon received messages; or to compare behavior across different scenario runs.
You can integrate this with profile-process to compare runtime behaviors across testcases/scenarios.
read more
Monday, 21 Jan 2013 15:25 - tags: devops, monitoring, perf - 0 comments
Updated oct 1, 2014 with a new
Disk space efficiency
section which fixes some mistakes and adds more clarity.
The Graphite + InfluxDB series continues.
read more
Wednesday, 24 Sep 2014 07:56 - tags: devops, golang, monitoring - 4 comments
Sunday, 23 Feb 2014 16:20 - tags: devops, monitoring - 0 comments
Being active as both a developer and ops person in the professional life, and both an open source developer and packager in my spare time, I noticed some common ground between both worlds, and I think the open source community can learn from the Devops movement which is solving problems in the professional tech world.
For the sake of getting a point across, I'll simplify some things.
First, a crash course on Devops...
Friday, 03 Sep 2010 22:26 - tags: devops, foss - 4 comments
Client-side rendering of charts as opposed to using graphite's server side generated png's allows various interactivity features, such as:
read more
Wednesday, 14 Nov 2012 08:49 - tags: devops, monitoring - 0 comments
The above sounds like a marketing phrase and I'm just as skeptical of them as you, but I feel it's in place. Not because GE is necessarily better, but it's certainly
different
.
read more
Wednesday, 09 Jan 2013 09:25 - tags: devops, monitoring - 2 comments
Sunday, 24 Mar 2013 11:36 - tags: devops, monitoring - 0 comments
Saturday, 20 Sep 2014 15:18 - tags: devops, golang, monitoring - 0 comments
Wednesday, 23 Apr 2014 09:10 - tags: devops, monitoring - 0 comments
Learned about
Dell Crowbar
the other day. It seems to be (becoming) a tool I've wanted for quite a while, because it takes automating physical infrastructure to a new level, and is also convenient on virtual.
read more
Wednesday, 02 May 2012 11:50 - tags: devops, openstack - 2 comments
When you use
rrdtool
, it can happen that you first create your databases, then collect a whole bunch of data and decide later you want more accuracy/longer periods.
Especially when using
read more
Wednesday, 09 Dec 2009 15:05 - tags: devops, monitoring - 5 comments
Earlier this month we had another iteration of the Monitorama conference, this time in Portland, Oregon.


(photo by obfuscurity)
read more
Thursday, 29 May 2014 10:39 - tags: devops, monitoring - 0 comments
The
whisper-to-influxdb migration script
I posted earlier is pretty bad. A shell script, without concurrency, and an undiagnosed performance issue. I hinted that one could write a Go program using the unofficial
whisper-go
bindings and the
influxdb Go client library
. That's what I did now, it's at
github.com/vimeo/whisper-to-influxdb
. It uses configurable amounts of workers for both whisper fetches and InfluxDB commits, but it's still a bit naive in the sense that it commits to InfluxDB one serie at a time, irrespective of how many records are in it. My series, and hence my commits have at most 60k records, and presumably InfluxDB could handle a lot more per commit, so we might leverage better batching later. Either way, this way I can consistently commit about 100k series every 2.5 hours (or 10/s), where each serie has a few thousand points on average, with peaks up to 60k points. I usually play with 1 to 30 InfluxDB workers. Even though I've hit a few
InfluxDB
issues
, this tool has enabled me to fill in gaps after outages and to do a restore from whisper after a complete database wipe.
Tuesday, 30 Sep 2014 08:37 - tags: devops, golang, monitoring - 0 comments