I'll be at fosdem - 10th edition - again this year.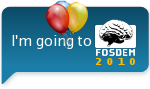 I'll be presenting a lightning talk about uzbl.
Also, Arch Linux guys Roman, JGC, Thomas and me will hang out at the distro miniconf. We might join the infrastructure round-table panel, but there is no concrete information yet.
More stuff I'm looking forward to:
I'm suprised myself how there are much more topics of interest to me then last year, and I'm not sure if the program is even finished.